Zoë Clark Cake Decorating Books
---
Zoe has a number of sugar craft and cake decorating books available. Please email us if you'd like to purchase a signed copy. Alternatively they may also be found on Amazon.co.uk, Amazon.com, and The Book Depository.

Elegant Lace Cakes 
Discover Zoe's latest signature lace techniques with over 25 contemporary cake decorating designs. Learn the latest trends and lace cake techniques with new products such as Sugarveil and Cake Lace. The book also includes techniques for example embossing, piping, appliqué, and brush work.


Simply Perfect Party Cakes For Kids
A collection of 12 easy-to-achieve cake designs. The book shows that beautiful novelty cakes for children is not only possible, but simple. These contemporary cakes are for both girls and boys. The projects include a baby elephant design and a 3D toy box cake for babies. There's an enchanted garden design and a circus-inspired cake for younger children. For older children, Zoe teaches a surfing cake and a paintball design, as well as a make-up cake for girls. Zoë also shows you how to make 'surprise inside' cakes, which reveal a pattern when you cut into the cake.
Cake Decorating at Home
This book includes easy to follow step-by-step guides and simple techniques to create a variety of delightful designs. These include cakes, cupcakes, mini cakes and cookies. The book has 10 chapters and each chapter has a central theme. There is one main cake design and 2 smaller designs which can be made all together or individually.
Cupcake Love
Cupcake Love is part of the 'Bake Me I'm Your's' collection by David and Charles. The book includes 20 gorgeous cupcake designs for romantic occasions.  You'll also find some fabulous mouthwatering cupcake recipes which are simple to make.
The Cake Parlour Sweet Tables
Bring some serious wow factor to your cake displays with a sumptuous sweet table. Combine cakes, cookies, cupcakes and more to stunning effect. Each stylish theme features a range of co-ordinating bakes and sweet treats to put together for a gorgeous display. Recreate each theme in full, or pick out individual elements to create amore simple baking display.
Chic and Unique Wedding Cakes
30 Modern Designs for Romantic Occasions: Packed with unique cake designs for weddings and romantic occasions the book features 10 chapters.  Each chapter includes a stunning main cake design and two coordinating smaller treats. Each design is inspired by an item from your wedding, such as the stationery, the flowers, the venue and, of course, the wedding dress.
Chic & Unique Vintage Cakes
This book features 30 vintage-inspired designs. Amongst the collection, you'll find elegant tiered lace, floral cakes, and amazing novelty cakes. There are ten incredible min cake designs. each one is accompanied by two smaller designs. The book also includes all the cake recipes you need, and simple step by step instructions for each project.

Chic and Unique Celebration Cakes
Chic and Unique Celebration Cakes is packed with colourful cake designs for every occasion. It features ten chapters. Each chapter opens with a main cake design.  In addition, there are two co-ordinating smaller treats for each theme. These include cupcakes, mini cakes, cookies, fondant fancies and chocolates.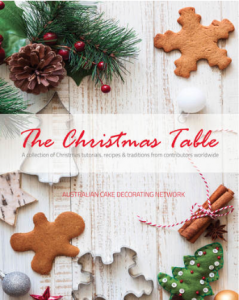 A Christmas Table – eBook
'The Christmas Table' e-book features some of Australia and the world's best decorators, bakers and pastry chefs. It shares the Christmas spirit across the globe, with it's collection of tutorials and recipes.
---
Foreign editions / Cake Decorating Books in other languages
Simply Perfect Party Cakes For Kids (Torte per Bambini) – Italian Edition
Simply Perfect Party Cakes For Kids (Zoe's Partycakes Für Kids) – German Edition.
Chic & Unique Vintage Cakes (Zoe's Vintage Cakes) –  German Edition.
Chic & Unique Vintage Cakes (Vintage Cakes) – Spanish Edition
Cake Decorating at Home (Decorare I Dolci in Casa) – Italian Edition
..
---
As well as her books, Zoë also teaches cake decorating through online tutorials and hands-on workshops.